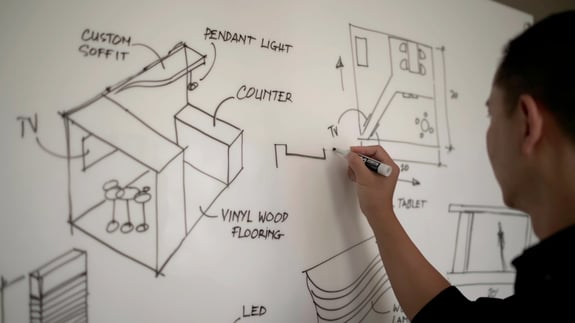 YOUR GUIDE TO TRADE SHOW BOOTH DESIGN
Overview
There's no way to overstate the importance of excellent booth design. On the trade show floor, you're competing for the attention of overstimulated show goers, and you usually only have a few short seconds to capture it. A well-designed booth makes the difference between a trade show triumph and an unfortunate (and costly) flop.
With over 15 years of experience in the trade show industry, we have seen booth trends come and go, learned what works and what doesn't, and helped hundreds of companies achieve their trade show goals.
We've put together this in-depth guide to help new and experienced exhibitors understand all aspects of trade show booth design, so that you can build stronger, more profitable collaborations between your brand and your customers at your next trade show.
Trade Show Booth Design Process
Building an effective trade show exhibit takes time. Throughout the trade show booth design process, planning and communication with your exhibit house is vital for success.
1. Pre-Planning
NFL quarterback Russell Wilson said, "the separation is in the preparation." What you do in the planning phase will elevate you above the competition at your next trade show. Pre-planning for your trade show booth design should address the following:
What are your trade show goals and objectives?
Solidify your objectives – attracting leads, networking, launching a new product, or building brand awareness are common trade show objectives that each come with unique booth requirements.
Who is your target customer?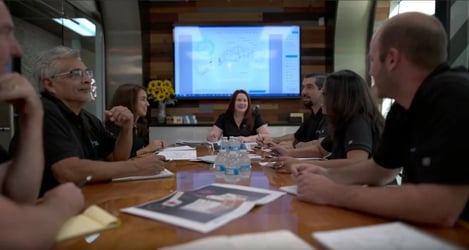 Understanding your target customer is central to an effective trade show booth design – their interests, demographics, and unique needs should inform your trade show exhibit design.
How will you engage your visitors?
Having an amazing looking booth means nothing if you don't have an engagement strategy that is based around your trade show objectives. Common methods of engaging attendees include product sampling, demos, and giveaways and events.
What special booth requirements might you have?
Trade show halls each have their own booth regulations and restrictions – refer to the show's Exhibitor Kit to get a better idea of them. An experienced exhibit house will help you make sense of everything in the discovery stage.
Are there venue requirements to consider?
Trade show halls each have their own booth regulations and restrictions – refer to the show's Exhibitor Kit to get a better idea of them. An experienced exhibit house will help you make sense of everything in the Discovery stage.
What is your budget?
You should have an accurate understanding of the total cost to exhibit at your trade show, as well as the cost of your booth itself.
Who is going to design and build the exhibit?
You can use RFIs, RFQs, and RFPs to help find a vendor that can meet your needs and stay within your budget. Choose an exhibit house that aligns with your culture and is equally invested in your success...hopefully that's us!
2. Discovery Stage
The discovery stage is vital to ensuring that the reality of your exhibit aligns with your initial vision because it's your chance to get in sync with your exhibit house. Some exhibitors enter this stage with a strong idea of what they want their exhibit to look and feel like, and some rely more on the experience and recommendations of the exhibit house. Either way, doing the legwork in the pre-planning phase will set you up for success in the discovery stage (and in the long run) as you begin to convey your booth ideas and design requirements to your exhibit house.

For Exhibit Options, the discovery call is our chance to learn all about your brand, your target audience, your budget and timeline, your trade show goals, and any ideas you have for your booth. We'll have an in-depth discussion about all of your booth's needs and requirements (required show services, design features, lighting, graphics, etc.), and provide our own insight and design inspiration to help you understand the options you have available. We'll also determine whether any specific trade show regulations and restrictions will impact your booth.
3. Design Concepts & Rendering
During this step of the trade show booth design process, your Exhibit Options representative works directly with our in-house design team to produce renderings of several exhibit concepts. You'll review them together, ask questions, give feedback, and eventually choose a single design that best meets your vision and your objectives.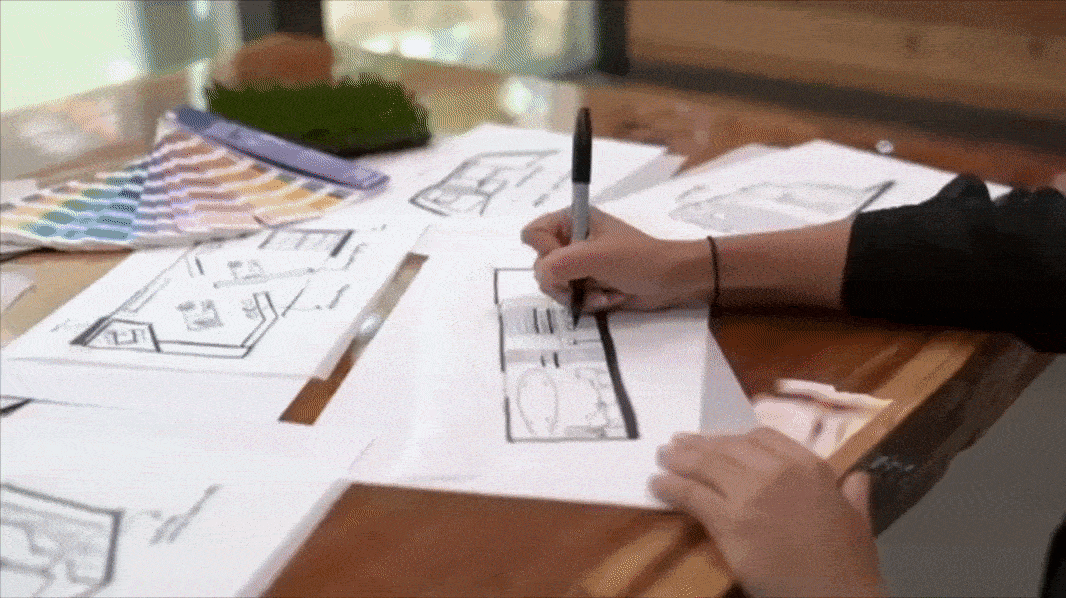 We do everything in-house because it allows us to make quicker adjustments to your designs, while being more cost-effective than other exhibit houses.
4. Proposals & Pricing
Once you've selected a concept for your exhibit, your representative will start to price the entire project by listing out the costs of the various components of your exhibit, such as materials, labor hours, trade show registration fees, show service fees, promotional items, and shipping. Once complete, your representative will review the proposal with you to gather feedback, make necessary changes, and ultimately get your final approval.
5. Production
Now that you've approved your booth design proposal, the real fun begins: exhibit fabrication and production! You will be assigned a project manager who will facilitate communication between Exhibit Options and your organization, send progress updates and photos, and answer any questions that may arise while your exhibit is being built.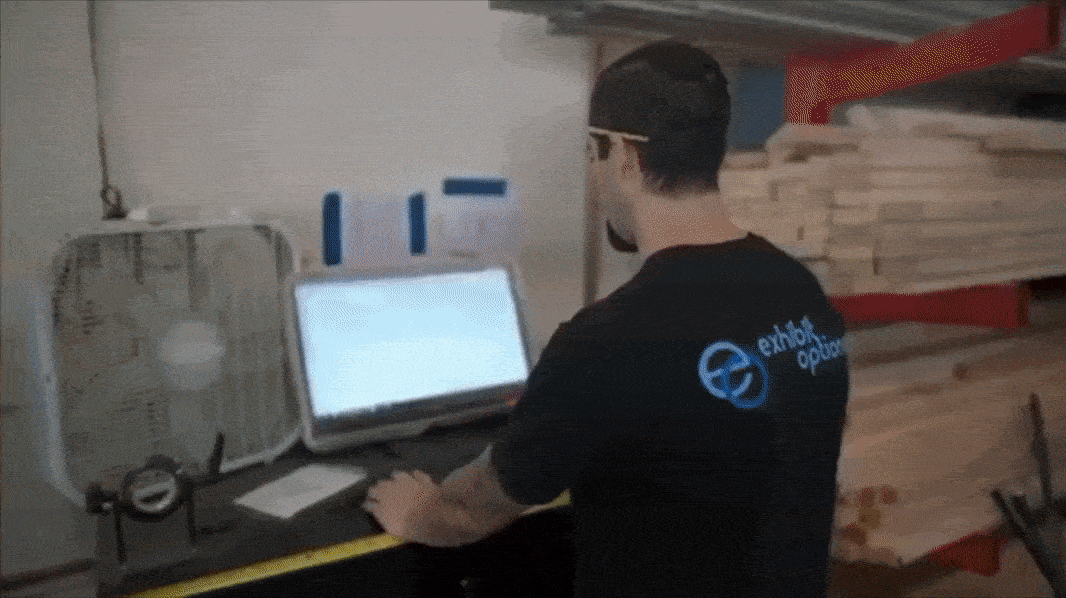 Exhibit Options completes 100% of your exhibit's fabrication in-house because it allows us to better manage the production of your exhibit. This means everything you receive on the show floor will look exactly as it was rendered, with no compromises or surprises along the way.
6. Final Approval
Once your exhibit has been built, your project manager will reach out with pictures of the constructed booth, and to ask if you would like the exhibit staged in our warehouse for you to check out in-person. As your trade show approaches, we will work to ensure the exhibit and all related materials are transported to the show in time to meet shipping deadlines.

You'll also be assigned an Exhibit Options show manager, who will manage the installation and dismantle of your exhibit and provide at-show support.
7. Showtime!
When it's time for exhibitors to move onto the show floor, your show manager will work with the I&D team to get everything assembled and exhibition-ready. We'll make sure all of your exhibit's trade show services are setup and accounted for, and will continue to provide assistance throughout the event.
Booth Design Budgeting
Putting the time into developing an accurate trade show budget will save you major headaches throughout the trade show booth design process. Developing an all-encompassing trade show budget means you've also set a budget for your actual exhibit, but how do you properly allocate that budget?
To find out how much you REALLY have to spend on a new trade show booth, you will need to take a deep dive into the not-so-obvious expenses associated with exhibiting.
Budgeting for a brand new trade show booth
Once you've reviewed all of the cost variables associated with exhibiting, you can decide how much of your trade show budget should be allocated to trade show booth design and fabrication. Be sure to account for these key booth design considerations:
Cost associated with booth size and shape: A large display makes a strong impression, but are you prepared for the increased costs that come along with it? Bigger booths require premium trade show space at a premium price. If you know which trade shows you'll be participating in, gather some numbers on booth space costs to ensure that your budget is thorough and accurate.
Booth transportation and storage: Storage containers will likely be produced along with your custom trade show booth. The cost of shipping them between events and their storage location will vary depending on the size, weight, and amount of containers.
Drayage: Drayage refers to the transportation of your booth materials across the exhibit floor to your booth space. Drayage fees can be hefty, but are minimized by smart storage and shipping methods (and lighter, smaller booths). There's a lot of confusion about how drayage is calculated, so here's a breakdown:


Staffing: A double-decker island booth will require more booth staff than an inline booth! Give some thought to how many people you'll need to man your booth and factor their presence into your trade show budget.
Assessing your existing exhibit
Do you already have an exhibit that's worse for the wear, or not meeting your trade show objectives? It's not necessarily time for the landfill! Evaluate the following points to determine whether you need a booth refresh or a total restart:
Is your booth missing some functionality?

Perhaps your booth could be rejuvenated by adding a more comfortable seating area, interactive displays, or charging stations. These things can typically be added or replaced without having to create a new booth.

Are you missing some attention-grabbing features?

If you're experiencing less-than-satisfactory foot traffic, but you're happy with your overall booth design and theme, consider adding features like hanging signs or enticing lighting. There may be trade show promotion ideas to make your existing booth more compelling and exciting.

Have you rebranded?

A rebrand affects the entire identity of your business, so a brand new exhibit with an updated trade show booth design may be in order. Alternatively, depending on the extent of your rebranding and the state of your existing exhibit, it may be possible to get away with updating the graphics and making only minor changes to the design.

Is your booth outdated or worn?

The last impression you'd like to make at a trade show is that you're old and run-down. If your booth has been around for a while, it's probably starting to show some signs of wear. Have your exhibit house assess the exhibit to determine whether it'd be cost-efficient to refresh or reconfigure your design.

Have you outgrown your booth?

This one is an excellent problem to have. If your booth is bustling with visitors and you've increased the size of your trade show team, everyone is likely feeling a bit cramped. Time to level up with a brand new booth!
If you need help assessing an existing trade show exhibit, or want to learn about the possibilities involved with a redesign, get in touch with us! We love the creative challenge of a booth refresh. Here are some trade show tips for redesigning your existing booth.
Budgeting for Booth Rentals
Sometimes, it makes more sense financially to rent a booth rather than to buy one. If you plan on using the same booth long-term for many trade shows, buying a booth is usually the best option. If you are an infrequent exhibitor or are just dipping your toes in the trade show waters, renting budget trade show displays can save you some serious cash.
The cost for booth rentals varies depending on your booth size and required level of customization (graphics, branding, signage, etc.). Here are some benefits of trade show display rentals:
No storage costs and cheaper shipping with portable trade show displays
More affordable for one-time use
Can be customized with graphics
Allow flexibility for budding businesses who are still figuring out branding, trade show objectives, etc.
Types of Trade Show Booths
One big decision you'll make in the trade show booth design process is what kind of booth to create. Each booth type has its own pros and cons, as well as best practices for making the most of your exhibit. Here's what you should know about each type of trade show booth:
1. Inline Booth and Portable Booths
Not every company needs a 40x40 double-decker island booth with fountains, stunts and a dance floor to attract the right leads. An inline booth, also called a linear booth, usually has a maximum depth of 10', is between 10' and 20' long, and has a height restriction of 8'. It is located in a row of booths, with neighboring exhibits on either side. Portable booths are designed to travel with your staff and require minimal setup efforts.
Pros: Smaller quarters give you an opportunity to use trade show booth design elements like strategic lighting, contemporary furniture, and powerful graphics to make a statement without the heavy price tag. With a little more wiggle room in your budget, you can spring for upgrades like interactive touch screens or premium giveaways. Plus, shipping, storage, setup and teardown are simple and affordable, especially with portable booths.
Cons: Unless you snag a corner booth, you'll only have traffic on one side. And height restrictions prevent you from using hanging signs to grab attention.
2. Peninsula Booth and Split Island Booth
A peninsula booth has three sides exposed to aisles. The enclosed side of the booth typically backs up to linear (inline) booths. Sometimes, it backs up to another peninsula booth. In this case, it can also be called a split-island booth.

Peninsula booths and split-island booths are usually 20'x20' or larger. Peninsula booths are subject to height restrictions in order to prevent line-of-sight blockages to the linear booths behind it, but split-island booths typically enjoy maximum height allowances.
Pros: If you want to set yourself apart from the crowd and catch leads from 3 aisles at once, a peninsula or split-island is the way to go. You'll have plenty of space to work with, and you can create a dynamic design that adjusts in size and layout to give you increased flexibility.
Cons: Peninsula booths don't give as much freedom (or traffic) as an island booth. Because peninsulas and split-island booths are on the larger side, shipping, drayage, storage, setup, and teardown can end up having a much higher price tag.
3. Island Booth and Two Story Booths
Go big or go home! Large island booths and two-story booths are built to claim the lion's share of the spotlight. These booths are open on all sides and can have multiple levels. Sizes range from 20'x20' and up.
Pros: Island booths have no height restrictions, so the sky (ceiling) is the limit! With aisles on all sides, you can capture traffic from any angle. The expansive square footage allows for additional displays, information desks, demo areas, interactive features, etc. while leaving elbow room for guest and booth staff.
Cons: With great booth space comes great financial responsibility. Trade show booth design, shipping, drayage, storage, and staffing will all be more costly the larger your booth is. If you're going for a two-story booth, be prepared for some red tape – a double decker is deemed a "structure" and will require several rounds of inspection and approval to ensure the exhibit is up to code.
Trade Show Goals and Objectives
Setting trade show goals and objectives is the foundation of your success as an exhibitor. Your goals will inform your trade show booth design, the features you include, the activities you perform, and your overall strategy.
By solidifying your trade show goals and objectives early on, you and your exhibit house will be able to create a more cohesive trade show booth design that provides a positive visitor experience from entrance to exit.
Here's a few pro-tips to help you ensure that the design of your exhibit is aligned with your trade show goals:
1. How to Generate Leads with Your Trade Show Booth Design
Generating new leads is perhaps the most common trade show objective. With thousands of attendees swarming the halls, how can you capture the most qualified prospects?
Don't Forget:
Use hanging signs, attractive lighting, and welcoming entrances to show leads where you are and to encourage them to step inside.
Movement grabs attention! Animated, energetic booth staff performing product demos and guiding games, contests, and more make your booth a must-visit. Place space for these activities within view of the aisles.
If product demonstrations are your key lead-generating activity, ensure that your demo space has ample visibility and space for viewers.
A company that works with clients' sensitive information would benefit from having an extra private meeting room to discuss challenges and solutions.
Storage and counter space are a must for businesses relying on food or beverage samples to generate leads.
2. How to Implement Your Product Launch Strategy Into Your Trade Show Booth Design
Trade shows are chock full of attendees searching for the newest, hottest offerings in your industry. It's the perfect environment to launch a new product or service!

Here are a few ways to maximize the effectiveness of your product launch strategy with your trade show booth design:
Look for an industry show with a strong presence of your target market that is scheduled around the same time that your new product is making its big debut.
Use your logo, a brand-aligned color scheme, and a cohesive theme to associate this new product with your familiar brand.
Utilize trade show product displays to showcase your new offering.
Include a demonstration, sampling, or experience space to show visitors what your new product is, how it works, and why it's so great.
If your product or service pertains to sensitive or confidential client information, private meeting areas are essential.
3. How to Build Brand Awareness with Your Trade Show Booth Design
If you're a new entrant to your industry or a smaller business ready to make your presence known, you'll need to find ways to stand out and tell the world who you are!

Incorporate the following elements to promote brand awareness using your trade show booth design:
Implement a cohesive, strongly branded theme. Everything in your booth, from the flooring to the signage to the product displays, should be unmistakably tied to your brand.
The best way to get to know someone is to hear their story. Your trade show booth design should tell show goers who you are, what's important to you, and the challenges you solve. A masterful exhibit house will design your booth to guide leads through it in a way that tells them your story in a logical sequence.
Include space for presentations, demonstrations, and networking. As the new kid on the block, it will help to have areas to show off your products and services and chat with leads and professionals in your industry.
Trade Show Booth Design Elements
No matter what your trade show objectives are, there are some key design elements you MUST consider. Here's a look at how we implemented these elements into Diana Food's exhibit.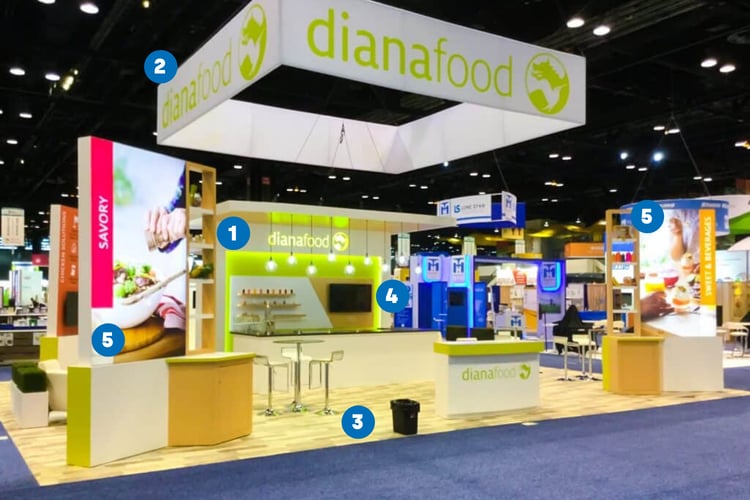 1. Trade Show Lighting
Humans are naturally drawn to light. Use that to your advantage with these trade show lighting best practices:
Use lighting to contribute to your theme/branding: Your display lighting can help trade show attendees understand who you are. Colorful or moving lights might indicate a fun and bold brand personality, whereas warm and soft lighting can give the impression of a down-to-earth, friendly brand personality.
Illuminate products: Great trade show lighting puts your products in the spotlight...literally. Under-shelf lighting and backlighting are creative ways to add a visual accent to your product displays.
Call attention to signage, graphics and messages: With so many booths, brands, and messages vying for attention at every event, strategic lighting can be a highly effective trade show booth idea to attract visitors.
Set the mood: Colors can actually impact our emotions. For instance, bright yellow and oranges might elicit more energetic feelings, while deep blues and greens can evoke feelings of calm and relaxation.
Choose the right lighting types: You'll likely use a combination of spotlights to highlight specific areas, floodlights to illuminate a larger space, hanging lights and backlit panels to illuminate signage, and RGB lighting to create custom color schemes.
2. Trade Show Graphics
They say a picture is worth a thousand words. Using the same logic, it's important to select trade show graphics that tell your brand's story beautifully. Here's a few tips on using your graphics to help your lead generation efforts:
Display your brand identity: A passerby should learn a lot about your brand just from the colors and images they see on your booth. When executed properly, using text in your graphics is great for conveying information, but what do the shapes, colors, and fonts portray about your brand?
Tell your audience what you do: Can you explain the challenges that your business solves in pictures? Your exhibit is like a giant billboard. Think about how you can explain what you do at a glance. For example, pet-safe lawn care service could use imagery of dogs playing in immaculate green grass.
Give them a reason to stop: Using a maximum of about 10 words, tell potential leads what you can do for them, and keep it customer-centric. For example, rather than stating "The #1 Personal Lender In California," you might say "Secure Your Personal Loan Without Collateral."
Avoid cluttered, crowded graphics: It can be tempting to use lots of photos and fonts to grab attention. However, that typically overwhelms the eye and confuses the viewer. Use a maximum of 2 fonts per graphic, don't use photos as text backgrounds, and use high-resolution images to avoid blurriness.
3. Exhibit Flooring
Flooring is rarely a hot topic in the trade show industry, but don't be fooled...it's the base of your trade show booth design (literally)! Exhibit flooring is one of the easiest ways to take your booth design to the next level and set yourself apart from the crowd. Great flooring delivers the following benefits:
Mark your territory: Using flooring, you can establish the boundaries of your booth. This is especially helpful for open-sided exhibits.
Strengthen your trade show booth design theme: Unite your exhibit design concept with a color or pattern that ties everything together and creates continuity.
Keeps visitors in your booth: Quality, comfortable flooring creates an oasis for attendees who've spent the day traversing hard exhibit hall aisles. Splurging on some padding will encourage leads to linger.
4. Trade Show Technology
Technology enables us to stay better connected to the world and other people, which is why it has become such a vital component of the modern trade show experience. Here are some common technological features utilized by exhibitors:
Mounted screens: Touch screens and TV screens can be incorporated for interactive walkthroughs or informational videos
iPad stands: Tablet kiosks allow you and your leads to use relevant apps and software with ease (and without the risk of passing an iPad around in a busy booth).
Charging stations: A welcome addition to any in-booth meeting space, charging stations give your visitors a reason to hang around and hear more about your business.
A/V equipment: Rise above the trade show noise with equipment that allows you to communicate clearly and effectively amidst the hustle and bustle.
Lead capture software: The days of clipboards and business card boxes are over. Streamline lead management by recording contact information and notes directly into your CRM.
5. Consistent Messaging
Every aspect of your booth should tell the same story. Your graphics, your trade show activities, your collateral, and even your staff uniforms should align with the message you want to deliver. Messaging is so much more than what your visitors read and hear. As you select each detail of your booth, think about how it contributes to the story you tell.
Design Features
Along with the must-have trade show booth design features, there are optional elements that can make a huge impact on how well you meet your trade show goals: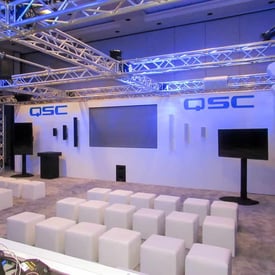 1. Meeting Rooms: Meeting space requirements vary depending on your business and your trade show goals. Options include:
Open meeting spaces, most often used for casual networking
Semi-private meeting spaces, which allow for relaxed conversations while minimizing distractions
Private meeting spaces, ideal for formal discussions, sensitive topics, or even VIP lounges. These typically only fit in larger island booths.
Presentation rooms, which slightly differ from standard meeting rooms in that they often feature an elevated stage, spotlighting, and audience seating. Often used to launch new products or services, build brand awareness or thought leadership, conduct trade show workshops, etc.
2. Sample Areas/Demonstration Spaces: If you plan on sampling your products or holding demonstrations of your service, it's important to be strategic with your booth design so that you can better engage with your booth's visitors. Consider implementing a layout that forces sample-seekers to actually step into your booth, rather than allowing them to just "hit and run". Get creative!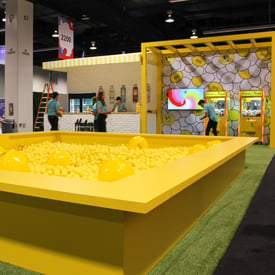 3. Product displays: Especially if you're highlighting the aesthetics of your product, or are in the midst of a product launch strategy, displays can help bring attention to your business offerings. Custom cases, mounts, or shelves are paired with thoughtful lighting to help your products catch the attention of show-goers.
4. Activity areas: If you have some fun trade show activities planned, you'll need adequate space to get your visitors in on the action. Your activity area should be large enough that participants aren't packed like sardines, and ideally will be visible from nearby aisles to attract the attention of passing attendees. The sky is the limit here. If your fun activity can be associated with your brand, that's a huge win!
The trade show booth design process has a lot of moving pieces. If you need help with your upcoming trade show, please contact us – we'd be delighted to help!
Have an upcoming trade show?
We would love to help!
Whether you need a fully custom exhibit, booth rental, or trade show displays, we are ready to exceed your expectations. Click the button and tell us a little about your project needs!